The Sample Groups tool is used to filter the Matching Groups output of an upstream Matching task to produce a sample of groups for each score.
Connections
Sample Groups has one input connector and one output connector. The input must be a Matching Groups output from a Matching task. Connect an input step by left clicking on the input tool's connector and drag onto the Sample Groups tool's input connector. Connect an output step by left clicking on the Sample Groups tool's output connector and drag onto a downstream component's input connector.

Configuration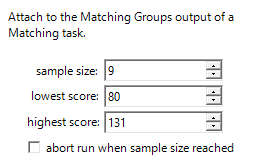 The configuration panel for the Sample Groups tool allows you to select the sample size, lowest score, and highest score.
| | |
| --- | --- |
| sample size | The number of Matching Groups to sample for each score within the range: lowest score to highest score. |
| lowest score | The lowest score of groups to sample. |
| highest score | The highest score of groups to sample. |