The Grouping tool is used for grouping together matching pairs from two or more Matching tasks.
Connections
Input
Grouping has one input connector, but you can attach multiple input streams to it. Input must be Matching Pairs output from a previous (or upstream) Matching tool, and each input attached must have the same schema. Connect input steps by left clicking on the output connector of a downstream component and drag onto the Grouping tool's input connector.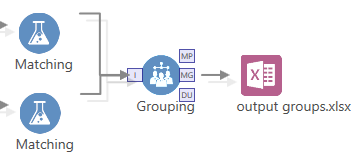 Output
Grouping has three different output connectors, these are:
MP
Grouped Matching Pairs, outputs matching pairs of records, each pair is grouped with other matching pairs
MG

Matching Groups, outputs the records within each group (default)

MatchedData output will be used if you go into 'advanced --> Output' and alter the Groups setting to 'all records'

DU
Duplicate Data, outputs all duplicate records
Connect downstream tools to at least one of these.
Configuration
See: matchIT Hub Configuration UI