NOTE: This article is listed in the following 'checklist' guides: [DSP] Application Installation Errors
Versions: All DSP versions
Issue: Installation error received during initial installation or upgrade (various root causes).
An installation or upgrade may fail for a variety of reasons. Some reasons might need addressing before the installation is resumed (e.g. database permissions). Sometimes simply resuming the installation or upgrade can allow it to succeed. The method can also be used if the installation times out.
Note: Do not re-run the Setup.exe to try to resume installation. It will not have the desired effect.
Resolution: Review error messages displayed on screen to determine the likely cause of the problem. Take any remedial action as appropriate.
1. Run the CranSoft Package Manager from the Start Menu as an administrator.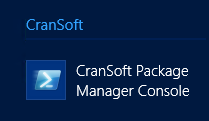 2. Execute the command: Install-BoaSolutions and hit <enter>. Installation will pick up where it left off.