Versions: all versions of DSP 6.x (also CranSoft 5.3.2 and 5.3.3)
Problem: I have received a new license file and now need to update the license
Solution: Updating the license takes less than 30 seconds and should cause no impact on users. See below for the steps:
To upload a license:
1. Log into DSP as an administrator
2. Navigate to System / Admin / Configuration / Product Licenses
3. Click File Upload icon next to <Upload a New Product License…>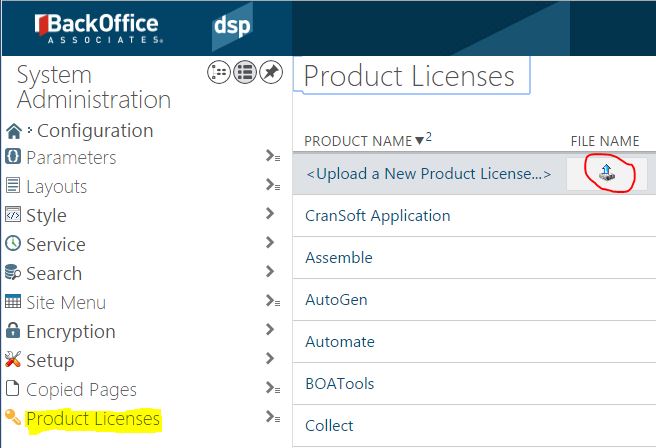 4. Browse to the location of the .license file
5. Select the license file and click Open button; a message will appear indicating that licenses were installed successfully
6. Click OK button to close message popup
7. Select the BackOffice Associates® logo to return to the site home page
8. Click the menu link for each webapp in turn and confirm all the webapp start pages load successfully without a licensing error being reported
NOTE: If the System Administration vertical menu does not display all the licensed components as expected, use the browser refresh button or the F5 key to refresh the screen. At this point the full vertical menu will appear.