Schedule a Refresh process is a simple task in Syniti DR.
Schedule

r Times
Recurrence
First select how often you want the operation to occur. Depending on your choice, the right side of the dialog updates to show the different options associated with your choice. For example, if you choose to refresh Weekly, the right side displays the days of the week so that you can choose which day you want to run the refresh.
Schedule

Times

Based on your choices in the Recurrence area, this area updates to display checkboxes allowing you to select times for running the operation. Note that you can select multiple times. For example, if you have chosen to run the refresh weekly, you could then set two times so that the refresh runs at 6 a.m. and at 12 midnight once per week on Mondays.
Refresh Schedule on Replication Properties Dialog
Right click on the replication, select Replication Properties.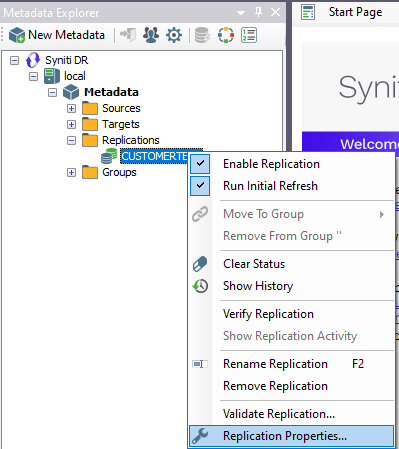 Run One Time Only
Select this option if you want to replicate data only once.
Run Recurrently
Select this option if you want to replicate data on a regular schedule. When you select this option, the Schedule button is activated. Click Schedule to open the Scheduler dialog.
NOTE: To run a complete refresh replication immediately the replication is enabled and the start time has been reached, check the Run Initial Refresh option on the right mouse button of the replication name in the Metadata Explorer, Replication Browser or Replication Monitor. Subsequent replications occur as scheduled. Target table records are deleted prior to running the initial refresh operation. You can avoid truncation of target tables by writing a script for the Refresh_onBeforeTruncate event.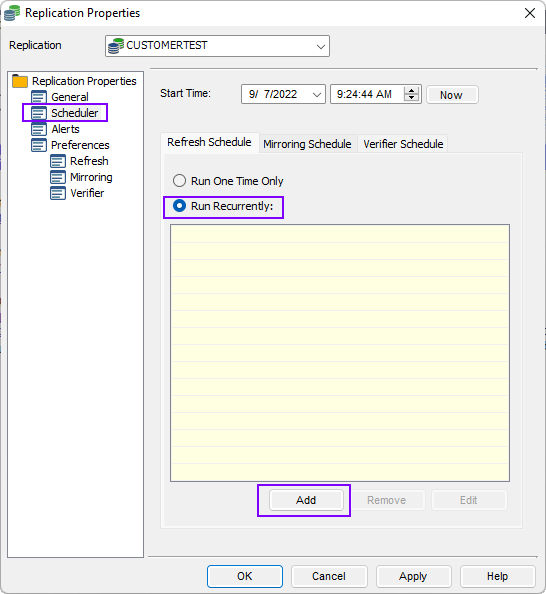 You are able to select your schedule several times per day or weekly at the time of your preferences.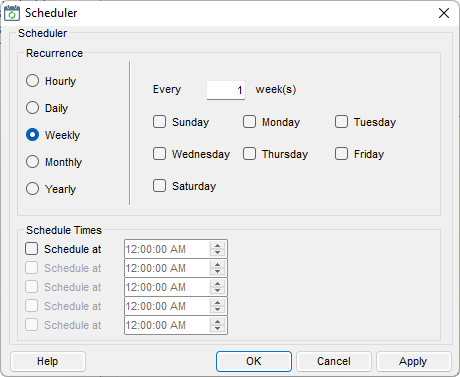 For mirroring replications which include an initial refresh, Syniti DR handles all transactions which occur while the initial refresh was taking place as part of the first mirroring phase by considering all transactions between the initial refresh start and the initial refresh end as a special case and verifying that all these transactions are handled appropriately.
For a synchronization replication, the initial refresh is always performed from the source connection to the target connection. Note that any transaction submitted during the time that the refresh is running might not be replicated. It is strongly suggested that you avoid updating the designated source and target tables until the refresh is done.
Creating a Refresh Schedule from the Create Replication Wizard
You can create a schedule at the moment to built a replication in the Create a Replication Wizard in Syniti DR.
You have to select the Refresh Schedule Tab and select Run Recurrently to open a new dialog.