Issue
Newer versions of SDR (such as 9.8.1.8) digitally sign configuration files to ensure that they come from the SDR code. There's an issue when the upgrade happens from old versions such as 9.5, in which the config files are not signed. The issue is addressed in the 10.x versions (released end of 2022), but 9.8.1.8, the latest 9.x version, still has this issue.
These are some example messages received when encountering the issue after an upgrade.


The config file 'D:\DBMOTO\DBMoto.server.config' is not valid.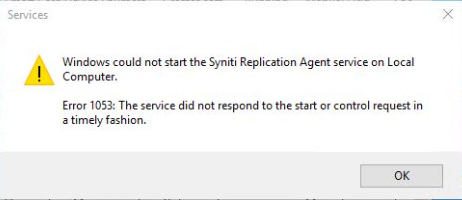 Windows could not start the Syniti Replication Agent service on Local Computer.




Error 1053: The service did not respond to the start or control request in a timely fashion.
Workaround
There are a number of situations where this workaround is either not possible or requires an unreasonable amount of effort. In these cases, skip to the Resolution section below.
Back up your metadata (https://sdrhelp.syniti.com/981/UsersGuide/Admin/Backing_Up_and_Restoring_Metadata.htm)
Uninstall your current version of SDR/DBMoto
Install the new version of SDR/DBMoto
Restore your metadata
Resolution
Upgrade to the new version of SDR/DBMoto

Make backup copies of

your DBMoto.config and DBMoto.server.config files. An example location where you'll find them is C:\Program Files\Syniti\Data Replication V9.
Ask the Syniti Software Support team to sign your config files by submitting this type of request. Be sure to attach the files.
Overwrite your config files with the signed files that are returned by Support.