Procedure Overview
This standard operating procedure describes at a high level how to enable an Object for SAP Data Services integration in the Stewardship Tier.
The procedure is a high-level document designed to guide the user on best practice. For more detailed information consult the online help.
Dependencies
This procedure is dependent up the following procedures:
SYN030 – Create Wave Manually
SYN310 – Create Data Services Repo Data Source Registry
Who Performs this Procedure?
Typically, this procedure is performed by someone in a migration leadership / ADM expert role (migration technical / migration senior consultant) who is responsible for configuring the Stewardship Tier's Advanced Data Migration (ADM) solution.
Users assigned the following roles would typically have access to perform this task:
System Administrator
Migration Developer Advanced
Procedure Steps
Navigate to Advanced Data Migration --> Console.
Select the Wave.



Click the Process Areas button. Process Areas associated with the selected wave will be shown.

Select the required Process Area and click the Objects Button. Process Areas will be moved to the parent frame and the child frame will display the objects associated with the process area.
Click the Vertical View for the Object.

Tick the Data Services check box and select the Data Services Repository from the drop-down list..

Click Save.
Note that activating Data Services for an object will change the available buttons in Transform for a target.
From This:


To This.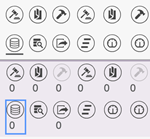 Basically, this adds buttons for Data Services Rules, Data Services Reports and Data Services Remediations.